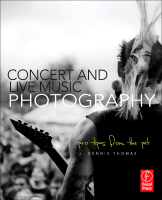 Enter your image here: Focal Press Monthly Photography Contest
The theme for the February contest is "life" sponsored by Concert and Live Music Photography by J. Dennis Thomas. Denny will be our guest judges this month. As photographers, every time we turn around, there is a moment we want to capture – sometimes the moment calls for a cell phone picture, and, other times, it's a full set up in a studio. This month, enter a photo that captured a moment for you. It can be anytime, anywhere, but a moment when you were glad to have your camera. In the description, be sure to tell us why you felt the moment important.
Be sure to follow Denny on Twitter @jdennisthomas and read his fantastic posts on Mastering Photo!
First Place:  Concert and Live Music Photography and a Focal Photography book of choice*
Second Place: Concert and Live Music Photography and a Focal Photography book of choice**
Third Place: Concert and Live Music Photography
*Does not include Focal Encyclopedia of Photography
** Does not include Focal Encyclopedia of Photography and must be valued at $39.95 or less